I have trouble doing recording exercises.
Two reasons can trigger this problem.
1. Your browser blocks our access to your microphone. Here is how you can grant us access to your microphone:
Chrome:
https://support.google.com/chrome/answer/2693767?co=GENIE.Platform%3DDesktop&hl=en
Safari:
https://support.apple.com/guide/mac-help/control-access-to-your-microphone-on-mac-mchla1b1e1fe/mac
Edge:
https://support.microsoft.com/en-us/help/4468232/windows-10-camera-microphone-and-privacy
2. The microphone settings of your computer fail to meet our recording requirements.
a. Check that the system volume is on by making sure the mute boxes are unchecked in the Volume Control Panel.

b. Check to see if you have a built-in microphone or test your new external microphone:
Go to "Start" -> "Programs" -> "Accessories" -> "Entertainment" -> "Sound Recorder"
Click the record button (red circle) and start speaking
If you see the green line move as you speak, then your microphone works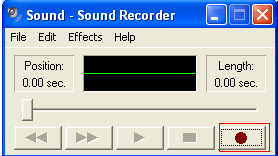 c. Clear cache in your Google Chrome browsers
Click the "Tools" menu (the wrench in the upper-right hand corner) -> Select "Options" -> Click the "Under the Hood" tab -> Click "Clear Browsing Data" -> Check "Empty the cache" box
d. Make sure Adobe Flash is up-to-date